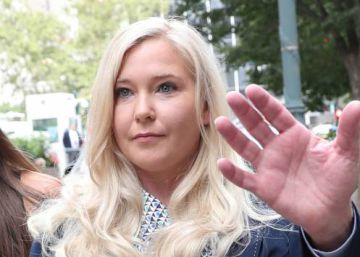 One of the alleged sex victims of millionaire Jeffrey Epstein, who committed suicide in prison last month, on Friday accused Prince Andrew of England of having abused her when he was 17. The woman, Virginia Roberts Giuffre, one of nearly 30 who has stepped forward to tell a judge about her experience with Epstein, gave an interview on NBC to detail her encounter with Prince Andrew. In addition to Epstein and the prince, Giuffre implicated Ghislaine Maxwell, a partner of the chief defendant in this plot who, according to various testimonies, recruited minors for his network
.
"The first time in London, I was so young, Ghislaine woke me up in the morning and said 'you're going to meet a prince today'," the woman recounted in the interview. What I didn't know at the time was that I was going to be trafficked to that prince," he added. According to her testimony, Prince Andrew picked them up that night at Ghislaine Maxwell's house and they also went out partying with Epstein at The Tramp Club in London, where they danced in the VIP section and gave her vodka. Upon returning, Giuffre got into the same vehicle as Maxwell, who told him that Prince Andrew was going to accompany them. "Ghislaine told me 'he comes home, and I want you to do the same thing you do to Epstein," Giuffre explained. CNN asked the British Royal Household about its version of this new accusation, which was described as "false and unfounded."
Epstein was arrested in July on charges of child sex trafficking by the U.S. Attorney's Office, alleging that he created a network to abuse dozens of minors at his Mansion in New York, another in Florida and on a private island in the Virgin Islands. The New York millionaire rubbed shoulders for years with the high ests, and some of the figures he had friends with were the now-American President Donald Trump, former President Bill Clinton, or Prince Andrew of England
.
After Epstein's arrest and suicide, Prince Andrew said he never "saw or suspected" anything about his friend's criminal activities. Prince Andrew and Epstein met by their mutual friend Ghislaine Maxwell, daughter of press entrepreneur Robert Maxwell. In the years that enclosed, they were seen on holiday in the same places and even the prince invited Epstein to the British royal family cottage in Sandringham and Windsor Castle.
After Epstein was released from prison in 2010 convicted of a case similar to the one now charged, the two were photographed together in New York, forcing the prince to apologize, to declare that he had broken off his relationship with his friend, and to resign from his car UK Representative for Foreign Trade,